DataTraveler SE9 G2 3.0 has a stylish and functional capless design, USB 3.0 performance, and up to 128GB of capactiy to carry your digital files anywhere.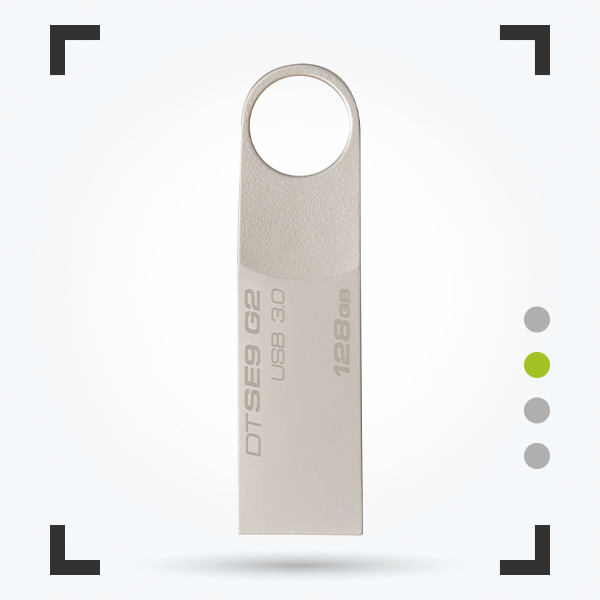 Lightweight, stylish USB 3.0 drive.
DataTraveler® SE9 G2
Store, transfer and share up to 128GB1 of your favorite photos, videos, music and more with Kingston's DataTraveler® SE9 G2 3.02 USB Flash drive. Its stylish, capless design means there's no cap to lose, and its ultra-small form factor fits any lifestyle.
DataTraveler SE9 G2 now offers fast USB 3.0 speeds to save time when transferring, sharing or storing files. Its durable, top-selling metal casing design and sturdy key ring can be customized by adding your logo and/or digital files to promote your organization or brand.
DataTraveler SE9 G2 is backed by a five-year warranty, free technical support and legendary Kingston® reliability.

Capless design
DataTraveler SE9 G2 features a lightweight, capless design and an ultra-small form factor that makes it easy to take anywhere.

High speeds
Impressive USB 3.02 performance means no more waiting for data to transfer. For convenience, DataTraveler SE9 G2 is backwards compatible with USB 2.0 systems.

Guaranteed
For peace of mind, DataTraveler SE9 is backed by a five-year warranty, free technical support and the legendary reliability that makes Kingston the leader in memory.
Videos
DataTraveler SE9 G2 USB 3.0
Capacities1
16GB, 32GB, 64GB, 128GB
Speed3
16GB: 100MB/s read

32GB–128GB: 100MB/s read, 15MB/s write

Dimensions
45.00mm x 12.2mm x 4.6mm
Operating temperatures
0°C to 60°C
Storage temperatures
-20°C to 85°C
Compatible with
Windows® 10, Windows 8.1, Windows 8, Windows 7 (SP1), Mac OS X v.10.9.x+, Linux v. 2.6.x+, Chrome™ OS
Warranty
5-year warranty with free technical support
Some of the listed capacity on a Flash storage device is used for formatting and other functions and is thus not available for data storage. As such, the actual available capacity for data storage is less than what is listed on the products. For more information, go to Kingston's Flash Memory Guide at kingston.com/flashguide.
USB 3.1 Gen 1 performance requires a host device with a USB 3.0 or 3.1 port.
Speed may vary due to host and device configuration.
© 2019 Kingston Technology Europe Co LLP and Kingston Digital Europe Co LLP, Kingston Court, Brooklands Close, Sunbury-on-Thames, Middlesex, TW16 7EP, England. Tel: +44 (0) 1932 738888 Fax: +44 (0) 1932 785469 All rights reserved. All trademarks and registered trademarks are the property of their respective owners.